TELEVISION
C A N Y O U L I V E F O R E V E R? [ 2 0 1 1 ]
D I R E C T O R :
Julian Jones
P R O D U C T I O N :
Dangerous Films, Jellyfish Pictures
D I S T R I B U T I O N:
Discovery Channel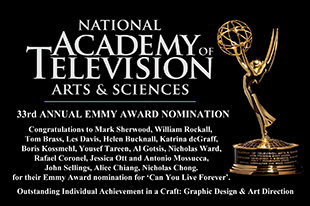 Star of 'Myth Busters' Adam Savage takes a humorous look at immortality in a one hour special for Discovery Channel US. Produced by Helen Conlan and directed by Julian Jones for Dangerous Films, the show was filmed at Kerner Studios in San Francisco. William Rockall directed the hybrid VFX shots requiring green screen, set extensions, tracking, photo real CGI, matte painting and motion graphic elements.
The visual effects received an Emmy nomination for Outstanding Individual Achievement in a Craft: Graphic Design and Art Direction. 
Dangerous Films – Discovery Channel
M A T T H E W     B O U R N E
A B O U T    M A T T H E W    B O U R N E
Sir Matthew Christopher Bourne OBE's choreography for contemporary dance and dance theatre is world renowned. He has received multiple awards and award nominations, including the Laurence Olivier Award, Tony Award and Drama Desk Award, and he has also received several Honorary Doctorates of Arts from UK universities. Bourne was knighted in the 2016 New Year Honours for services to dance.
Pearl DME worked on Matthew Bourne's Christmas programmes for both 2012 and 2013. 2012 saw a selection of his most famous dance pieces reworked to make an enchanting one hour visual feast, including Edward Scissorhands, Swan Lake, Nutcracker, Spitfire, Play Without Words, and more recently Sleeping Beauty. Pearl DME provided the design for the titles and graphic elements to form the links between each dance piece.
Directed by Ros MacGibbon for Leopard Films and Channel 4 the programmes aired on Christmas day in the respective years. 
Matthew Bourne – Channel 4